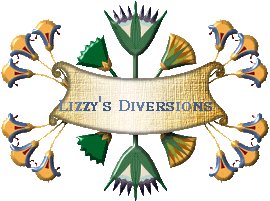 This is a seasonal launch page as well as an ever-changing gallery of personal odds and ends.

I tend to become obsessed with new interests, hobbies, and phases VERY INTENSELY . . . At least for a while. Eventually I either leave the fascination behind, or I incorporate it into my personality.

Prior Love affairs include:

cross stitching, quilting, sewing
lifting weights, walking, ballroom dancing

writing, working for pay, etc. etc. etc.
Interests that have already become a part of me include:

this web stuff, knitting, gardening, tarot and the Craft.

(By the by, most of these have been long-term, committed relationships. I'm not a complete alley cat.)
Still, I have a roving eye and new, shiny things distract me. Isn't that why we love to surf the web? This page will allow me to share these bright-burning little flings with you.

Before you go much further, consider bookmarking this page so that you may freely leave and come back to leave once again.