To

'Getting Started'

The process of growing, gathering and preparing plant materials amplifies the healing and magickal properties of herbs. The presence of plants and the occupation of tending to them also enhances the environment of the witch.
As a witch, I accept that a plant is more than the sum of its chemical components. I believe the effectiveness of any cure, treatment or enchantment that involves plant life depends in part on:
the spirit of the plant (deva)
the timing of the harvest (in both the practical and spiritual sense)
the conditions the plant experiences prior to harvest
the health of the soil that cradles the roots
the quality of water and nutrition the plant receives
the faith and intention of the witch
the traditional, historical significance of the herb

I don't pamper my plants. I work with them intensively in the spring when I'm aching for air and sunshine anyway. I sometimes remember to water them in the summer. If I'm feeling particularly conscientious, I cut back the perennials and remove the annuals in the autumn.
The Boy loves to pick them, the dog loves to tromp them and the hens love to scratch at their roots. Some plants can't take this uneven care and abuse and don't make it. I hope as I mature I will become more consistent. In the meantime, I can offer these suggestions confidently. If I can grow these, you can.
(Depending, of course, on your temperature zone...sun vs. shade situation...soil type...and....oh well, give them a try.)

Begin with a Basic Witches' Garden

obtain by:

type

light requirements

adapt to indoors?

sage
Salvia officinalis

nursery plants

probably perennial

sun

maybe

thyme
Thymus vulgaris

nursery plants

perennial

sun-med. shade

yes

rosemary
Rosmarinus officinalis

nursery plants

meek
perennial

sun

yes

lavender
Lavendula spp.

nursery plant

meek perennial

sun

yes
(topiary)

lemon balm
Melissa officinalis

nursery plants

aggressive perennial

sun-med. shade

yes

basil
Ocimum basilicum

seed

tough annual

sun-light shade

yes

dill
Anethum graveolens

seed
only

tough annual

intense sun

no

mint
Mentha spp.

nursery plants

aggressive perennial

sun-med. shade

yes

oregano
Origanum spp.

seed

tough annual

sun-light shade

yes

parsley
Petroselinum crispum

nursery plants

sturdy annual

sun-med. shade

yes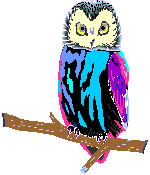 To Witches' Garden Index
Basic Herbal Stock Contents:
To Getting Started
To Magickal Properties
To Medicinal Properties
To Harvest & Preservation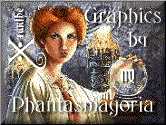 Cyber Owls are from Night Owl Graphix.
You too can have one for your page
at the Cyber Owl Adoptions.