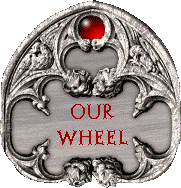 The following is a list of the events my family recognizes
throughout the Wheel of the Year.
The Wheel below is circular in nature
Moving forward into the circle,
from the date highlighted in red,
will provide you with accurate future dates.
(Event dates are accurate as far as I know, but traditions vary.)
The full moons of 1999 are listed below.

October 31
Hallows, Last Harvest, Halloween
November 2
All Soul's Day
November 25
Thanksgiving
November 28
Beginning of Advent
December 3
Feast of Bona Dea
December 6
St. Nicholas Day
December 14
My Consort's Birthday
December 22
Winter Solstice, Yule
December 25
Christmas, Mother's Night
January 1
Secular New Year's Day
January 6
Epiphany, Twelfth Night
January 13
Birthday of our Goddaughter
February 2
Candlemas, Presentation of Jesus at Temple
Groundhog's Day (smile . . . its fun)
February 14
Valentine's Day
February 17
Ash Wednesday, Beginning of Lent
March 3
Birthday of our Godson
March 17
St. Patrick's Day
March 21
Spring Equinox, Ostara
April 1
Last Supper--Holy Thursday, All Fool's Day
April 2
Crucifixion--Good Friday
April 4
Resurrection--Easter
April 15
TigerWolf's Birthday
April 20
Anniversary of our Goddaughter's Christening
May 1
May Day, Beltane
May 14
Ascension of Jesus
May 27
Lizzy's Birthday
June 21
Summer Solstice, Midsummer
July 4
Independence Day
August 1
Lammas, First Harvest
August 17
Anniversary of our wedding
August 23
Anniversary of our Godson's Christening
September 21
Autumn Equinox, Mabon, Second Harvest
September 29
Day of the Archangels
October 2
Feast of the Guardian Angels
October 4
Feast of St. Francis of Assisi
October 12
Our Son's birthday
January 1st 1999
January 31st
(The first of TWO blue moons in 1999)
March 2nd
March 31st
(second blue moon)
April 30
May 30
June 28
July 28
August 26
September 25
October 24
November 23
December 22
(This is also Yule / Solstice folks)

The moon phase animation was found at MediaBuilder
and is public domain.